U.S. Stands Tall as Seven Riders Finish in the Top 20 of 2014 Longines FEI World Cup Jumping Final
Beezie Madden and Simon (Kendall Bierer/ PhelpsSports.com

)

Lyon, France - The seven American riders that headed into the third and final leg of the 2014 Longines FEI World Cup Jumping Final produced determined efforts over two rounds to close out their week in Lyon. Frank Rothenberger set two demanding 13-obstacle tracks that produced a great shake-up of the leaderboard throughout the afternoon in Lyon's Eurexpo. Twenty-seven of the world's best horse-and-rider combinations started in Monday's first round with 22, including all seven Americans, qualifying to return for the Monday's second-leg.

U.S. Chef d'Equipe Robert Ridland was pleased with the effort put forward by all the American entries throughout the week, as his riders earned strong finishes for the United States for a second consecutive year.

"Our objective was to get as many in the money as possible (top 16) and we had five again in the money. A couple things didn't go our way on Friday and again today, but we had a great second leg," said Ridland. "We had a great mix of veterans and new riders, so to see these results, I'm pretty happy."..read more>
Other Headlines From This Issue
Thursday, April 24th - Sunday, April 27th
The Rolex Kentucky Three Day Event Presented by Land Rover
Friday, April 25th - Sunday, April 27th

Friday, April 25th - Sunday, April 27th
Georgia Claims NCEA National Title with 8-8 Win over South Carolina

from www.geogriadogs.com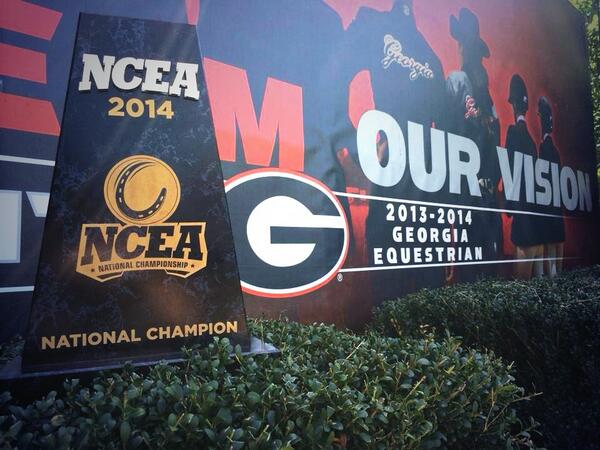 Photo from @UGAEquesttrian

Twitter account.

Waco, Texas - The Georgia equestrian team brought home the 2014 NCEA National Championship when it defeated Southeastern Conference foe South Carolina an 8-8 (2,323.5-2,219) in a rematch of the SEC Championship on Saturday, April 19 at the Extraco Events Center in Waco, Texas. It was the program's sixth national title and the first since 2010. Georgia ends its season with an overall record of 11-4.

"What an exciting day this was for our entire team," Head Coach Meghan Boenig said. "I could not be more proud of how these riders performed, especially in pressure situations. For the first time, this competition has been about the entire team and we had outstanding efforts from every single person on the team today. This is a `hunker down' group that has competed to the very last point in every single ride in every single meet this season. They have never given up and I am so proud of them for that."..read more>

Konyot and Parra Close Out 2014 Reem Acra FEI World Cup Dressage Final with Improved Scores
Tina Konyot and Calecto V (Mary Adelaide Brakenridge/Phelps Media Group/PSdressage.com)
Lyon, France - The 2014 Reem Acra FEI World Cup Dressage Final came to an exciting conclusion Sunday afternoon at the Lyon Eurexpo, as 17 of the world's best performed their Freestyles in front of the Ground Jury of Eduard de Wolff van Westerrode, Dr. Jean-Michel Roudier, Thomas Lang, Dr. Evi Eisenhardt, Gary Rockwell, Jacques van Daele, and Leif Tornblad. The two American riders, Tina Konyot and Cesar Parra, both posted improved scores over their Grand Prix results to close out their trip to the FEI's only annual championship.
Entering the ring as the fifth combination of the day, Konyot (Palm City, Fla.) and her 16-year-old Danish Warmblood stallion, Calecto V, performed their trademark Freestyle set to the music of KT Tunstall and Beyonce. The 2010 Alltech FEI World Equestrian Games and 2012 Olympic Games veterans began with the strong trot tour they have been become known for, however, three-quarters of the way through her test Konyot forgot her floor plan resulting in a different ending to the test than originally planned...
read more>
The Jonathan Wentz Memorial Challenge for High Performance Para Dressage Established

Jonathan Wentz and NTEC Richter Scale
at the 2012 London Paralympics
(Lindsay Yosay McCall)
Gladstone, N.J. - The United States Equestrian Team Foundation is pleased to announce an exciting new fundraising initiative, The Jonathan Wentz Memorial Challenge for High Performance Para Dressage, made possible through the generosity of Margaret H. Duprey and The Barnfield Foundation. The goal of the initiative is to raise $800,000 for High Performance Para Dressage. Mrs. Duprey and the Barnfield Foundation have each pledged up to $200,000. They will each match, dollar for dollar, every gift commitment of $4,000 and above made by April 1, 2015.
The Jonathan Wentz Memorial Challenge for High Performance Para Dressage
offers an incredible opportunity for those who share a passion and interest in increasing support for these most inspiring and deserving athletes, and their quest to represent this country in international competition including the World Equestrian Games and Paralympics...read more>
Farrington Wins Second Leg of 2014 Longines FEI World Cup Jumping Final

Kent Farrington and Voyeur (FEI/Arnd Bronkhorst/Pool Pic)

Lyon, France - All 11 Americans riders put forward determined efforts in the 2014 Final's second leg of competition looking to climb the leaderboard following Friday's Speed Leg. Kent Farrington, Beezie Madden, Charlie Jayne, Leslie Burr-Howard, Katie Dinan, and McLain Ward all posted fault-free efforts on Saturday evening to join the jump-off list that included many of the world's best.

In the jump-off, Farrington (Wellington, Fla.) and Amalaya Investments' 12-year-old Dutch Warmblood Voyeur were one of 11 pairs to leave all the rails in the place in a time of 39.69, which would prove unassailable by the remainder of the field. The 2011 Pan American Games Team Gold medalist utilized Voyeur's natural speed and rode extremely efficient lines to seize the 41 World Cup points that were up for the taking on Saturday.

"My horse was really special tonight. I treated it like an individual Grand Prix," said Farrington of his jump-off strategy. "I just try to stay smooth because he's naturally a fast horse. His speed is his speed; the more I leave him alone, the better he goes."..read more>
7 Nations, 4 Gold Medalists, 2 World Champions to Compete at Kentucky Reining Cup

Lexington, Ky. - The strongest and most impressive line-up at a Reining event this year, the 2014 Kentucky Reining Cup boasts entries from seven nations, including Australia, Canada, Brazil, Italy, Mexico, Sweden, and the United States.

Among those are the world's current Gold medalist title holders from the United States: Shawn Flarida, Tom McCutcheon, Tim McQuay, and Craig Schmersal - all competing for the chance to represent the U.S. in defending those medals.

Also returning are 2014 Champion Shawn Flarida looking to make a repeat performance as top competitor at the $120,000 event, and returning World Champion Freestyle Reiner Shane Brown...read more>
How Is Pelleted Horse Feed Manufactured?
Feeds and feed management for horses have seen major changes over the years. A century ago, most horses ate hay and oats or corn. Grain might be harvested from the farmer's own land, or corn and oats might be bought in large bags that usually weighed around a hundred pounds (45 kg)...read more>
Road to WEG: Eventing
Somewhat comparable to a human triathlon, the discipline of eventing was historically developed to test the skills required of the working military mount - athleticism, agility, bravery, speed, and endurance. Eventing has evolved into an exciting spectator sport and competitive endeavor attracting enthusiasts of all levels - from weekend amateur riders to international professionals. At its highest level, eventing is recognized as one of the three Olympic equestrian disciplines, but it also offers activities and competitions for riders and horses of all levels.

Eventing is divided into three phases: dressage, cross country, and show jumping.

Dressage is the first phase of competition and is used to demonstrate the level of communication between horse-and-rider and showcase the horse's power, balance, rhythm, and suppleness, which are tested further in the following two phases...read more>
*It's Show Season. Bring Your A-Game.*
Long hours in the saddle.......trailering to lessons........scrimping and saving to pay for show fees.........cleaning tack.........body clipping..........polishing hooves.

The preparation work for the first show of the season is time-consuming and sometimes tedious. But equine enthusiasts around the country could not imagine spending their time doing anything else right now - that show is right around the corner...read more>
100 Day Horse Challenge Open for Registration

Washington, D.C. - The 100 Day Horse Challenge, sponsored by Time to Ride, is now accepting host applications. The first 1,000 hosts to be approved will compete for $100,000 in cash and prizes this summer by providing entry level horse experiences to as many people as possible in 100 days beginning June 1. Official rules and registration details are available at www.timetoride.com.

The goal of the 100 Day Horse Challenge is to increase awareness of the benefits of horse activities across the United States by aiming to engage at least 100,000 new people with an introductory horse experience. The Challenge is open to members of the horse industry who have the capacity to support this goal, including stables, instructors, clubs and associations, veterinarians, racetracks, horse shows and other events, rescues, feed and retail stores, and therapeutic riding stables. Prizes based on the verified number of people engaged will be awarded to first through sixth places in small, medium, and large divisions to allow hosts to compete against others of comparable size. Cash prizes up to $25,000 will be awarded, along with stable equipment, feed, veterinary supplies, and more...read more>
from Louise Parkes for FEI
(FEI/Dirk Caremans)
W
orld No. 1, double-Olympic and European champion and the rider who holds all three world records in the sport, Charlotte Dujardin, became the first-ever Briton to win the Reem Acra FEI World Cup™ Dressage title at Lyon in France today.
To the strains of a newly-created musical score she steered Valegro, the horse that has taken her to the very top and beyond over the course of the last two spectacular years, to a mark of 92.179 that left her well ahead of defending champions Helen Langehanenberg and Damon Hill NRW from Germany in second place. The Netherlands' Edward Gal and Glock's Undercover revealed more of their increasing potential when slotting into third ahead of Sweden's Tinne Vilhemson-Silfven and the elegant Don Auriello in fourth.
But it was Dujardin and Valegro who owned the stage and clinched the coveted Reem Acra trophy after receiving a standing ovation from the crowd. "I'm over the moon, coming here to my very first World Cup Final - it's so fantastic! This was my first time with my new Freestyle and it was so much fun, this music is great and it was so emotional - it's all you can ask for...a dream come true really!" the new champion said...
read more>
Trainers' Jackpot at UPHA Chapter 5
The Board of the UPHA Chapter 5 Horse Show and AMP Horse Show Services are pleased to announce a Trainers' Jackpot at the 2014 edition, held May 7-10 at the Hale Arena in Kansas City, Mo. Borrowing from the success of UPHA Chapter 3/4 at the Madison Classic, Chapter 5 will be offering a $100 cash prize at the end of each evening session...read more>

Spanish Horse Breed Presentation at 2014 Rolex Kentucky Three-Day Event presented by Land Rover
The only four star Three-Day Event in the Americas, is featuring a breed presentation of Spanish/Andalusian and Lusitano horses, Thursday-Saturday, April 24-26, 2014 at the Kentucky Horse Park in Lexington, Ky. The presentation will consist of a half-hour segment each day and will take place in the Walnut Arena. The exhibitions will highlight the use of the Iberian breeds in dressage, reining, doma vaquera, and working equitation...read more>

UPHA Chapter 14 Spring Premier Results Online
Morgan division results from the 2014 UPHA Chapter 14 Spring Premier are online and can be viewed here.




VISION STATEMENT

The vision of the United States Equestrian Federation® is to provide leadership for equestrian sport in the United States of America by promoting the pursuit of excellence from the grassroots to the Olympic Games, based on a foundation of fair, safe competition and the welfare of its human and equine athletes.

2014, United States Equestrian Federation, Inc.
Devon Horse Show Adds to its Accolades!
Devon is one of sixteen United Stated Equestrian Federation (USEF) Heritage Competitions and has now added to its accolades by participating in the Best Performance Competition program...read more>
The Equestrian Weekly Blog is looking for guest bloggers. Email
if you would like to contribute

Do you have ideas, news, or stories for Equestrian Weekly?
Email Editor Andrew Minnick at