Lisa Wilcox Rides Pikko del Cerro HU For the Win in the FEI Grand Prix Special at Wellington Dressage CDI-W presented by The Dutta Corp
Wellington, FL - The 2013 Adequan Global Dressage Festival (AGDF) carried on Saturday with the third day of competition of the Wellington Dressage CDI-W presented by The Dutta Corp. The morning's classes featured the FEI Grand Prix Special and the FEI Intermediare 1.

Winning the $10,000 FEI Grand Prix Special was Lisa Wilcox (USA) riding Horses Unlimited's Pikko del Cerro HU (Pik L x Rohdiamant). The 10-year-old dark bay Hanoverian stallion and his rider received a score of 71.583%. Being the youngest amongst his competitors this morning, Wilcox was quite proud of Pikko. She conveyed, "He is a very fast learner. I've enjoyed developing him through the Prix St. Georges, then the Grand Prix and now the Internationals in what I like to call the 'Adult Grand Prix'. He just amazes me, how quick he's stepping up and catching on."

Wilcox continued, "The year he spent developing in the Grand Prix was really good for him. It allowed him to learn what I call the 'Freshman courses' and now he can go onto his sophomore year with self-assurance. He knows the work. Although there is a little different choreography and a little longer test, he's confident."..read more>

February 9th
Rusty Stewart and Bristol Triumph After a Two-Horse Duel in the $54,500 Strongid® C 2X Grand Prix CSI-W 2*, Presented by Zoetis
Rusty Stewart and Bristol (Flying Horse Photography)

Thermal, CA - Speed, scope, strategy and nerve were pushed to the extreme in the $54,500 Strongid® C 2X Grand Prix CSI-W 2*, presented by Zoetis, Saturday night at HITS Desert Circuit II. Ultimately, it came down to a contest of two in which Rusty Stewart of Camarillo, California, prevailed on his Grey Fox Farm entry, Bristol. His contender was Lucy Davis and Old Oak Farm's Nemo 119. The event, which took place under the lights before a capacity crowd, was the West Coast's first FEI World Cup qualifier of the winter season and also the first show jumping competition to take place under the banner of Zoetis, the new name of the company formerly known as Pfizer Animal Health. Zoetis will continue to manufacture products such as Strongid® C 2X, Fluvac Innovator® and Quest® Plus.

The Strongid® C2X Grand Prix was a qualifier for both the AIG Thermal $1 Million Grand Prix, presented by Lamborghini Newport Beach, this March and the Zoetis $1 Million Grand Prix that will take place Sept. 7-8 at HITS-on-the-Hudson in Saugerties, New York on Championship Weekend...read more>
Watch the #FTIWEF $100,000 Fidelity Investments Grand Prix
Jump-Off on USEF Network
An Explanation of Requirements In USEF 2010 Preminary Dressage Test A, Movement 6; and FEI 2009 One-Star Dressage Test A, Movement 3
from Sally O'Connor for USEA
Based on the old adage that a picture is worth a thousand words, I am making this attempt to sort out the confusion on the USEF 2010 Preliminary Dressage Test A, Movement 6; and FEI 2009 One-Star Dressage Test A, Movement 3.

In Training level tests A and B, we ask for a circle letting the horse stretch completely forward and down. This is an accepted way to loosen the horse's back while maintaining the rhythm and balance...read more>
Announcing the 2013 Adequan Global Dressage Festival CPEDI3* March 14-17

from USPEA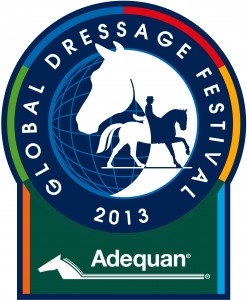 Wellington, FL - Announcing the 2013 Adequan Global Dressage Festival WEF Dressage Classic CPEDI3* presented by Today's Equestrian and Fellows scheduled March 14-17, 2013. This will be the first opportunity of the 2013 season for Para-Equestrian Dressage riders to begin the qualifying process for the 2014 Alltech FEI World Equestrian Games in Normandy, France.
The Adequan Global Dressage Festival CPEDI3* will take place in Wellington, Florida at the beautifully designed Adequan Global Dressage Festival Show Grounds. Entries may be entered online at EquestrianEntries.com or mailed to Palm Beach International Equestrian Center, Attn: Adequan Global Dressage Festival, 14440 Pierson Road, Wellington, FL 33414. Definite Entries must be entered by February 28, 2013...read more>

USEF Names Search Committee to Find Technical Advisor/Chef d'Equipe for the U.S. Dressage Team
Lexington, KY- The United States Equestrian Federation (USEF) has taken the initial steps in hiring the next Technical Advisor/Chef d'Equipe for the U.S. Dressage Team. A six member Search Committee, approved by USEF CEO John Long, has been formed to assist in the hiring process.

The Search Committee is composed of:
Eric Straus, Chairman

Janet Foy

Catherine Haddad-Staller

Susan Dutta

Anne Kursinski

David O'Connor
The first order of business for the Selection Committee will be approving a job description, prior to accepting applications.

For more information regarding the process of hiring the next Technical Advisor/Chef d'Equipe for the U.S. Dressage Team contact Jenny Van Wieren-Page at (859) 225-6949 or by email
JVanWieren@usef.org
Eventing Nations Share Vision for Cross Country

from FEI
Eventing moved a step nearer to achieving an international vision for the sport when National Safety Officers (NSOs) from 22 nations were able to pool ideas and experiences at their sixth annual Risk Management Seminar, which was hosted by the Italian Equestrian Federation in Rome on 26 and 27 January.

The NSOs were shown a DVD highlighting good and bad techniques in cross-country riding. The DVD, which has been two years in the planning, has been painstakingly put together by Great Britain's NSO Jonathan Clissold, who was a course-builder at the London 2012 Olympic Games, and international coach Nick Turner (GBR). It will undergo some fine-tuning and will be used as a guide for Officials across the world later this year.

"We need to share a vision of the pictures we want of our sport," explained Guiseppe della Chiesa, chairman of the FEI Eventing Committee. "We need to remind riders and trainers of the direction the sport should be going in, but we also need to have something that shows what we mean by this...read more>
SEC Upset Highlights an Exciting NCEA Weekend
A big weekend of NCEA competition had its share of upsets and near misses. At the end of it a few things seem certain: there will be a change at the top of the next NCEA Coaches Poll, and there will be plenty of competitive drama leading up to the NCEA National Championship in April.

No.3 University of Georgia def. No.1 South Carolina University 11-8

The Gamecocks stole one from the Bulldogs in Bishop during the fall season. On Saturday the Bulldogs stole one back on the South Carolina home ground in Blythewood. Not only did they win, but they won by the exact score they were beaten by in November. The Bulldogs also improved their win streak to three while handing South Carolina their third straight loss. Both teams are now 3-5 overall. If there was any doubt that these two were evenly matched before Saturday, there isn't anymore...read more>
Western Dressage Exercise: What To Do In The Winter?
by Pat Van Buskirk
How can you practice anything on your horse when there's six inches of snow on the ground, it's below freezing, the wind is blowing, and you're not blessed with an indoor arena? Here in Colorado, we often have beautiful, sunny days where we can exercise our horses outdoors for hours. On other days, not so much.

As a friend of mine said, "it's not how you ride your horse; it's how you live your life." He was referring to work you can do off your horse, such as practice your posture. Cliff Swanson, Advisory Board member and trainer for the Western Dressage Association® of America, explains posture on your horse with, "lift your rib cage off your stomach, hold in your belly below your belt, relax your legs, allowing them to drape around your horse, and point your buckle straight ahead."...read more>

AMHA Medal Program Update
from AMHA
USEF Rule MO165.12 regarding AMHA medal classes recently was modified to clarify qualifications. We would like to draw your attention to the following key points:

* AMHA Medal classes do not require a minimum number to fill a class.
* The Silver Medal will be awarded to the first place winner and a certificate suitable for framing will be awarded to the second place rider.
* First and second-place AMHA Medal Class winners qualify to ride in the Medal Class Finals at the next Grand National & World Championship Morgan Horse Show®.
* Silver Medal winners in any seat who have won a single rider class may compete in one (1) other AMHA medal class with multiple riders (they are not eligible to participate in another single entry class), however, they will not be awarded a second medal should they be the class winner...read more>
Kentucky State Fair Announces the Judges for the 2013 World's Championship Horse Show

from ASHA
The judges for the Kentucky State Fair World's Championship Horse Show have been selected, they are: Steve Crabtree, Fran Crumpler, Kim Crumpler, George Knight, and Kent Swalla. They will be judging all divisions, Mr. and Mrs. Crumpler will not both judge the same class.
There have been changes made in the schedule of classes. There will be a qualifying class and a championship class for Junior Park Horses. The qualifying requirements for Pleasure, Park, and Park Pleasure, six (6) classes in three (3) shows, will apply to this class...read more>




VISION STATEMENT

The vision of the United States Equestrian Federation® is to provide leadership for equestrian sport in the United States of America by promoting the pursuit of excellence from the grassroots to the Olympic Games, based on a foundation of fair, safe competition and the welfare of its human and equine athletes.

2013, United States Equestrian Federation, Inc.
Atrtention Dressage Athletes
CDIO3* Wellington Memo and Rider Declaration are now available.
The Equestrian Weekly Blog is looking for guest bloggers. Email
if you would like to contribute

Do you have ideas, news, or stories for Equestrian Weekly?
Email Editor Andrew Minnick at aminnick@usef.org