Vilhelmson-Silfven wins, Peters claims Third in WDM Freestyle, Koford Finishes Second in WDM Grand Prix Special at World Dressage Masters Palm Beach presented by Wellington Classic Dressage
Watch Steffen Peters & Legolas 92 at the WDM Grand Prix Freestyle

Wellington, FL- The World Dressage Masters Palm Beach presented by Wellington Classic Dressage concluded Saturday at the Jim Brandon Equestrian Center with the WDM Grand Prix Special and the WDM Freestyle. Competition at the only North American stop in the World Dressage Masters Series presented by the Axel Johnson Group came to a close under the lights as the top seven combinations from Friday's WDM Nürnberger Grand Prix performed their customized Freestyles. For a second time over the weekend, Steffen Peters led the U.S. effort, collecting third place in the Freestyle scoring 80.175% with Legolas 92. However, the U.S. veteran was unable to best Sweden's Tinne Vilhelmson-Silfven who rode Don Auriello to victory with a score of 84.075%. The afternoon session hosted WDM Grand Prix Special competition, with Denmark's Mikala Gundersen and My Lady topping the six horse field on a score of 69.479%. The sole American entry, Jim Koford and Rhett, finished in second place with a score of 67.167%.

WDM Freestyle

Peters (San Diego, CA) produced an upbeat fun Freestyle with Four Winds Farm's 11-year-old Westphalian gelding Legolas 92. The test composed to recognizable music from U.S. pop-culture highlighted the 2012 USEF National Grand Prix Dressage Champion's outstanding trotwork, particularly in the piaffe and passage.

"This was a huge step-up for sure, first time in the limelight," said three-time Olympian Peters. "The atmosphere was a lot for him. To finish with an 80% here is amazing."..read more>

WDM Grand Prix Special

Koford (Raleigh, NC) showed added consistency in Saturday's test to improve his mark by nearly a percentage point over the Grand Prix test. The pair would have further challenged the winners but a loss of rythym in the piaffe by Shirley McQuillan's 13-year-old Dutch Warmblood gelding held their scores back.

"He was so with me today. It was a win-win," said Koford of Rhett. "I came out with a grin and he came out with a grin."..read more>
January 26th
Brianne Goutal and Onira Triumph in $50,000 CSI 2* Grand Prix at The Stadium at PBIEC
Brianne Goutal and Onira (Sportfot)

Wellington, FL - Week three of the FTI Consulting Winter Equestrian Festival (FTI WEF) concluded with an exciting $50,000 CSI 2* Grand Prix on Sunday afternoon held on the grass derby field at The Stadium at The Palm Beach International Equestrian Center (PBIEC). The class saw a win for U.S. rider Brianne Goutal and Remarkable Farms LP's Onira in a four-horse jump-off. Todd Minikus (USA) and Macoemba finished second, Laura Kraut (USA) and A. Lebon's Jubilee d'Ouilly were third, and Luis Larrazabal (VEN) aboard Anabel Simon's G&C Sacramento placed fourth.

Uliano Vezzani of Italy was the course designer for week three's international show jumping competition in Wellington. In Sunday's $50,000 CSI 2* Grand Prix, Vezzani set the track on the beautiful grass field for 46 competitors and only four were able to clear the course without fault. The bogey fence, a tall wavy-plank vertical off of a tight left-hand turn came down for the majority of competitors, but there were many other rails around the course as well...read more>
Watch Team JDRF Win the 2013 Great Charity Challenge
U.S. Maintains Steady Presence at World Cup Competitions
Lexington, KY - Despite frigid temperatures in eastern Germany, Gabe Aniello, the United States' sole representative at the second round of World Cup competitions, managed a successful showing.

Together with the horse Pino del Rio and longeur Elke Shelp-Lensing, Aniello took to the ring with a new routine complete with new music. In a departure from his tenderly elegant "Hallelujah" freestyle from 2012, Aniello chose the markedly more powerful, tempestuous "Radioactive" by Imagine Dragons.

Though Aniello's performance in Paris one month earlier was arguably smoother, his unwavering positivity left him nonetheless "satisfied" of his performance in Leipzig, chalking it up to yet another learning experience...read more>
The U.S. Eventing Association and The Professional Riders Organization Form Partnership to Promote Eventing
from USEA
The USEA and PRO are delighted to announce the two organizations are forming a partnership to create greater promotion of the sport by focusing on a joint promotional effort of the Adequan USEA Gold Cup and the PRO Tour Series. During the past few years the two series have been run on separate divisions at the Advanced and CIC3* levels at selected events with PRO including some CCI3* competitions in its series. In 2013, the programs will both run on the same division which will eliminate the need for riders to make a decision as to which division to enter.
USEA and PRO will closely collaborate on cross-marketing and cross-promotion of the two programs sharing the responsibilities of providing high quality media coverage at each of the competitions. USEA will feature videos of the competitions on its newly launched USEventing.tv and publish in-depth articles in Eventing USA. PRO will continue to provide its very popular color commentary by the riders and other special events that have become a highlight of the PRO Tour Series. Each organization will continue to maintain their own leaderboards and promote their respective sponsors...
read more>
Wilcox and Pikko Del Cerro HU Pick Up Another Win at the WCD Sunshine Challenge CDI3*
Lisa Wilcox and Pikko Del Cerro HU (Susan J. Stickle)

Wellington, FL - Lisa Wilcox and Pikko Del Cerro HU scored double wins at the Wellington Classic Dressage Sunshine Challenge CDI3* with victories Friday in the Grand Prix Special and Thursday in the Grand Prix.

Pikko Del Cerro HU, a 16.2 dark bay Hanoverian stallion owned by Horses Unlimited and Anne Sparks, scored 68.854% in Friday's FEI Grand Prix Special CDI3* USEF HP $1,000 sponsored by Palm Beach Equine and Sports Complex. The pair won Thursday's Grand Prix CDI3* with 69.574%. In both tests, Pikko Del Cerro showed off his expressive, high piaffe and smooth tempis.

Wilcox was pleased with the horse's improvement and concentration on the second day of competition. "I'm very happy with that," she said. "He was right where he needed to be. I absolutely enjoyed that ride."..read more>
Para-Equestrian Developing Driver Clinics Presented by United States Driving for the Disabled
from USPEA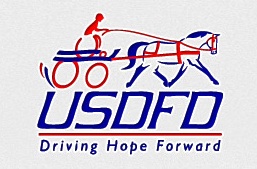 Moorpark, CA - United States Driving for The Disabled (USDFD) is conducting a series of clinics for the 2013 calendar year. The clinics are open to current and future Para-Equestrians featuring a "try-it-and-see-if-you-like-it" section of the clinic. The first clinic is scheduled for March 16 and 17 in Moorpark, CA. Future clinic dates and clinicians will be announced including Spring and Fall Clinics in Florida, the Northeast of the United States and the West Coast of the United States. USDFD would like to share the pleasure of driving with more equestrians while building the skill level of currently competitive drivers. The clinics are free to those interested...read more>
Three Horse Shows Receive USEF Heritage Competition Honor
Lexington, KY

- The United States Equestrian Federation Board of Directors, at its recent Annual Meeting, considered three applications for USEF Heritage Competition status. The Roanoke Valley Horse Show, the Norfolk Hunt Horse Show and the Dressage at Devon Horse Show were granted the highest honor currently held by Federation horse shows.



The designation of a USEF Heritage Competition is reserved for competitions that have been in existence for a quarter-century or more, promoted and grown equestrian sport, and made contributions to the community outside the gates of the horse show by achieving, maintaining, and promoting the equestrian ideals of sportsmanship and competition...read more>
Stephen Clarke (GBR) Elected as FEI Dressage Judge General

from FEI
Stephen Clarke, the newly elected FEI Dressage Judge General, officiating at the London 2012 Olympic Games where he has president of the Ground Jury. (Kit Houghton)
Stephen Clarke, the British judge who acted as President of the Ground Jury at the London 2012 Olympic Games, has been unanimously elected as FEI Dressage Judge General. He was elected to the post by the 5* Judges present at the annual FEI 5* Dressage Judges seminar, which was held in Paris 20-22 January.
Clarke succeeds Ghislain Fouarge (NED), who became the first Dressage Judge General when the post was created in 2011. Fouarge had opted not to stand for re-election for a second two-year term.
"We are very much looking forward to working with Stephen Clarke in his new role as Dressage Judge General," said Trond Asmyr, FEI Director Dressage and Para-Equestrian Dressage. "He is a first-class judge and a natural communicator, so he fits the job description perfectly...read more>
Dogs Beat Dogs on First Weekend of NCEA Spring Competition
Fresno, CA -
The No.3 ranked Georgia Bulldogs equestrian team traveled to Fresno on the opening weekend of the spring NCEA season and handed the host Fresno State Bulldogs a 12-4 loss. UGA got off to a quick start with a 4-0 sweep in Equitation Over Fences and never looked back. The Bulldog vs. Bulldog matchup was the marquee one of the weekend, one that also saw No.5 Oklahoma State, University of Tennessee Martin, and Delaware State in action. Georgia will face No.1 South Carolina next Saturday. Read more at www.georgiadogs.com.
Western Dressage: Playing Scales
The Western Dressage world is abuzz with dressage talk. The hot topic of the moment seems to be progressive training, especially as it has to do with pyramids and scales. Pyramids are extremely stable structures that rely on strong, broad foundations and which rise to a point, a pinnacle if you will that represents a point of focus. Without the foundation, the pyramid loses strength. The intrinsic nature of the structure itself necessitates culmination in a point. The pyramid is the perfect structure to help define things which need a strong base of support and which seek to obtain a specific goal, the ultimate goal which a process is designed to lead to.

Music has scales. Scales are considered the foundation of musical genius of all kinds. Scales teach budding musicians manual dexterity, muscle memory, familiarity, chord families, note recognition and progression, key recognition and many other important fundamental skills that are needed before one becomes accomplished on any instrument. One must play Mary had a Little Lamb before Beethoven's 5th Symphony...read more>

2013 UPHA Chapter 14 Scholarship
from AMHA
UPHA Chapter 14 is pleased to announce that once again $7,500 in scholarship money will be awarded in 2013. Applicants must be high school seniors or college freshmen. Applicants must be UPHA Chapter 14 Junior or Associate members or the child of an active UPHA Chapter 14 member.

Applications are due April 10, 2013.

Please contact Barbara Irvine by e-mail at Irvine44@aol.com or call (518) 392-5064 to request an application form.
ASHA Annual Award Recipients Announced, Ruwoldt to be Honored for Lifetime Achievement
from ASHA
Lexington, Kentucky

- The

American

Saddlebred Horse Association (ASHA) has announced its annual award recipients, based on voting by the ASHA Board of Directors.





Nominees for each award are

submitted by the general membership and committee volunteers, screened by the ASHA Executive Committee, and voted on by the full Board from the candidates selected. The awards are presented at the Annual Saddlebred Gala, to be held at the Griffin Gate Marriott Resort & Spa, on the evening of Saturday, February 16, 2013...read more>





VISION STATEMENT

The vision of the United States Equestrian Federation® is to provide leadership for equestrian sport in the United States of America by promoting the pursuit of excellence from the grassroots to the Olympic Games, based on a foundation of fair, safe competition and the welfare of its human and equine athletes.

2013, United States Equestrian Federation, Inc.
The Equestrian Weekly Blog is looking for guest bloggers. Email
if you would like to contribute

Do you have ideas, news, or stories for Equestrian Weekly?
Email Editor Andrew Minnick at aminnick@usef.org